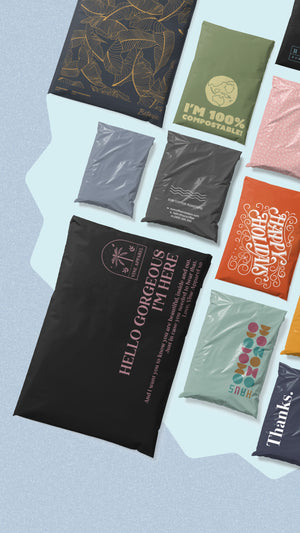 Custom Compostable Mailers
Want branding that stands out? Get started with HeapsGood.
Let's Grow Together.
Our custom mailer service is made for growing ecommerce brands that mean business. If you're looking for 10,000+ shipping mailers at wholesale prices, we're here to help.
Plant-Based
Made from plants, for plants. Our mailers are Aussie-certified home and industrial compostable.
Stress-Free Delivery
Don't sweat the small stuff. Relax, while we take care of the manufacturing from start to finish.
Aussie-Owned
Keep it local and print with a family-owned business. Our mailers are made with care.
Totally Tailored.
Print, size and colour options are fully customisable. Create your dream compostable shipping mailer with support from our design team.
Delight your customers... and the planet.
Our compostable mailers are made with love... and a strict adherence to Australian domestic and commercial composting standards. Vegemite toast not included.
How it Works
Give us the deets
Select the sizes and quantities you want, and we'll send you a quote.
Send your artwork
We'll get back to you with custom mailer mockups before starting production.
We'll handle the rest
Your custom mailers will get manufactured and shipped direct to your door.
Ready to Go Custom?
Heck yeah! Before you get started, please note that minimum order quantities start at 10,000 mailers per size, and it will take 2 months from placing the order to receiving the goods in your warehouse.
This allows to liaise directly with the manufacturing partners overseas, and get you the best bargain possible. Trust us, it's worth the wait.
Custom packaging is a great option for brands transitioning to larger sales volumes. It makes for stellar first impressions and will increase brand recall.
Unlike a lot of other HeapsGood products that made in Australia, our compostable mailers are currently made in China. Unfortunately, at this stage, there aren't many factories in Australia that can provide the required compostability certifications.
Custom orders take approximately 2 months from deposit payment date to receipt of mailers into your warehouse.
It depends on your order quantity and design. Send through an enquiry and we'll get back to you with an estimate.
Custom mailer orders start from 10,000 units. Unfortunately, making custom mailers for smaller quantities isn't a possibility due to the cost, and because we want to keep doing our best by the environment.