The Top 7 Ecommerce Shopify Apps in 2023
Growing your Shopify store without apps would be difficult. 
They unlock superpowers for your store and enable you to do things that would otherwise be impossible without a (seriously good) web developer.
Remember though: too many apps installed on the frontend of your website will slow it down, so it's important to make sure you choose your apps wisely. 
The following 7 apps are not necessarily 'the best apps ever', because that's a highly subjective claim. This list combines awesome functionality and great value, which I think is what most HeapsGood customers are on the hunt for. 
So, without further ado, here's our updated must-have Shopify app list for 2023...
Klaviyo
It's probably not much of a secret by now.
Klaviyo is the leading email marketing app for Shopify stores, and among the best customer retention tools in the ecommerce industry.
There are two key reasons why Klaviyo could be incredibly useful for your brand.
First, it allows you to build automations based on user behaviour on your website. This lets you create personalised customer journeys and engage users at the right time with the right message. I have an article that goes in depth on this topic here.
Second, you are able to segment your audience based on tons of parameters from average order value to product category interests and everything in between. This ensures the email campaigns you send are always relevant and provide value for your audience.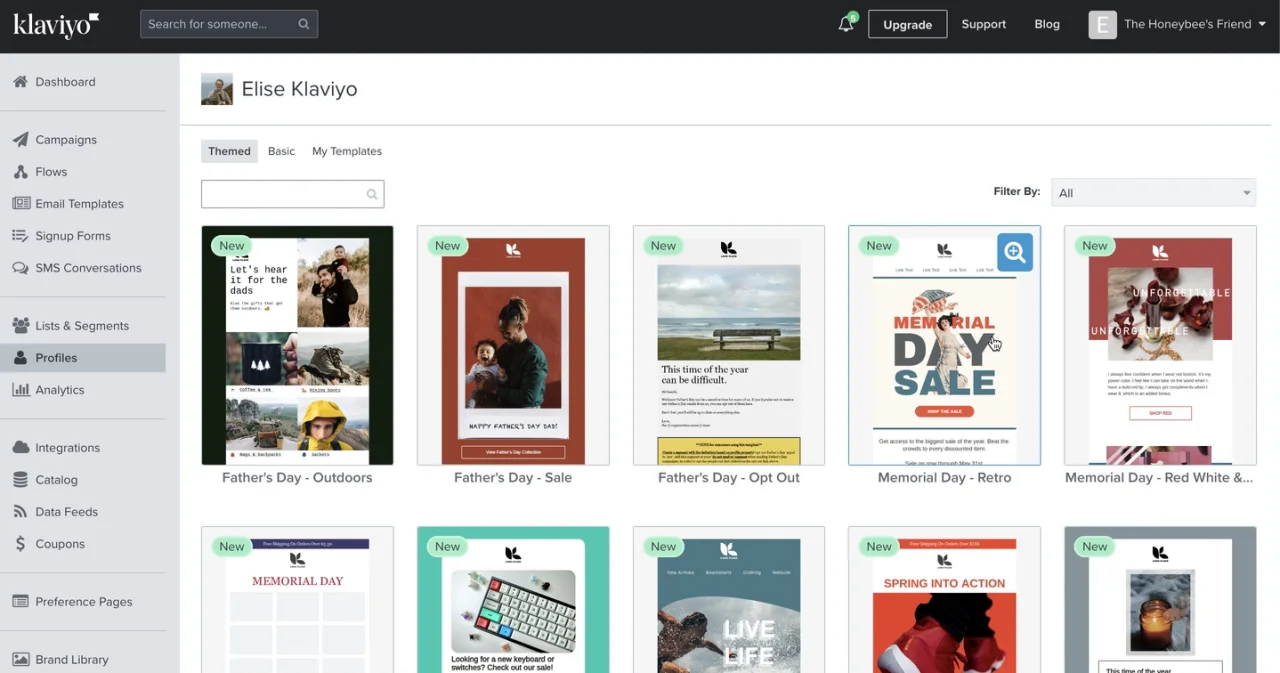 Gorgias
Gorgias is the ultimate customer service help desk for Shopify store owners. After trying it, you won't want to use email ever again.
What are it's main advantages over traditional email customer service? 
For a start, you have all of your Shopify customer data integrated with the helpdesk. Contact information, order history, tracking – it's all right there at your fingertips.
Then there are the macros. These delightful, one click responses you can build for all of your most frequently asked questions. You can even include variables like first name, tracking number, order number and more, so you can get information to your customers with minimal effort!
It's no surprise that an amazing customer experience is key to growing an online brand. Gorgias is part of the customer experience I've built for my brands and recommended to friends in the eCommerce industry.
Feed for Google Shopping by Simprosys
This app is crazy good value, which is probably why it's rated 4.9 stars from 2500+ reviews. 
Most ecommerce brands need to get involved in Google Shopping, Bing Shopping and Facebook Ads at some point. 
Simprosys allows you to seamlessly connect your product catalogue to each of these marketing channels in a few clicks.
There are more expensive options in the market like Data Feed Watch; and other apps that are built for specific channels like Awesome Facebook Product Feed, if you need a bit more functionality. 
For most brands though, Simprosys will get the job done at low cost.
Use this app to power your Pmax campaigns in Google Ads and dynamic product ads in Facebook Ads. These are both important tactics to grow an ecommerce business in 2023.
Judge.Me and Okendo
The bottom line is that social proof will help customers trust your brand and increase your conversion rate, and reviews are one of the best vehicles to generate social proof.
Reviews enable your customers to champion the benefits of your products (which of course requires you to have a great product and experience in the first place).
I've listed two review apps here because they serve different purposes depending on the size of your ecommerce business. 
Judge.Me is a fantastic budget option for collecting and displaying reviews, with a free plan and an advanced plan priced at $15. It has all the basic functionality required and lets you push reviews to organic Google listings and Google Shopping listings too.
Okendo is more feature rich, and can do useful extras such as offering a discount in exchange for a review and pushing reviews to Google Sellers for Search Ads. We also like Okendo because it's an Aussie company! 
Searchanise
Searchanise is a super powerful app for adding instant search functionality to your website. 
This is a must-have for stores with large catalogues and helps users find what they're looking for, rather than scrolling endlessly through your collection pages.
There is Shopify's own in-house solution, Search and Discovery, which they're putting a lot of time and resources into. It has improved dramatically over the last year, but still isn't as powerful as Searchanise. Still, if you're looking for a native option that is free, it's a good choice.
Zipify One-Click Upsell
This powerful tool enables store owners to increase their average order value (AOV) and maximise revenue through strategically placed upsells and cross-sells.
By offering relevant upsell and cross-sell offers during the checkout process, you can encourage customers to purchase additional items, thus increasing the overall value of their orders.
Zipify OCU allows merchants to create customised upsell funnels, giving them complete control over the type and sequence of offers presented to customers. You can design your funnels based on the products in your store and the specific behaviour of your target audience.
This personalization ensures that customers only see offers relevant to their interests and needs, ultimately increasing the likelihood of conversions.
Unlike many other upsell apps, Zipify OCU supports post-purchase upsells. These offers are presented to customers after they have completed their initial purchase, allowing them to add more items to their order without having to go through the entire checkout process again.
Knocommerce
One of the key challenges in business is understanding what your customers want, think and feel.
With Knocommerce, it allows you to embed a post-purchase survey directly into your customer thank you page. Some example questions include "Where did you hear about us?", "Do you have any feedback for our website experience", and "Are there any products you would like to see us release?"
We get around a 30% response rate, so almost 1 in 3 customers are happy to leave some feedback on the brand and their experience.
This is hugely valuable information if your primary goal is to serve your customers better – definitely give Knocommerce a try!
The Wrap Up 
There you have it, my top Shopify eCommerce apps for 2023.
Do you use any of the apps mentioned? Are there any you disagree with or alternatives you would recommend to fellow ecommerce merchants? Let us know in the comments below!
---
7 comments
---
---